Dean's Foreword – 25 Years of Legal Education at the University of Craiova
The establishment of a higher education institution in the heart of the Oltenia Region was completed in 1947 with the adoption of the Law which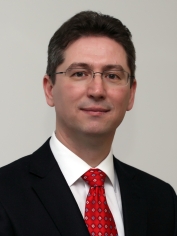 provided for 'the setting up and organisation of the University of Craiova and its Eforía'. Legal education itself became a reality as 1990 saw the establishment of a programme of higher education studies in law, which brought along a notable change in the educational offer and the organisational structure of the University.
The carefully built-up Law team has succeeded in demonstrating that the ideal itself is a nascent reality. Craiova is at this time on the map of elite Romanian legal higher education institutions. We form part of the Romanian Law Schools Hexagon, we publish books and articles in the most prestigious national publishing houses and reviews, we organise national and international conferences, symposiums and scientific sessions, we offer our students modern study facilities and sustain their involvement in specialist programmes both nationally, and European wide.
The Faculty now enjoys new premises which offer excellent conditions for education: spaces for study, a library, a court room, a sports hall, offices, the Aula Magna, all of which are adequately equipped to fit the standards of European university campuses. The start of this ambitious project of higher education infrastructure by the team under the coordination of Professor Dan Claudiu Dănișor is proof of the passion evinced by jurists dedicated to the academic community. Its completion attests the maturity and institutional force of our Faculty and the University of Craiova.
Upon attainment of a quarter of a century in the Citadel of the 'Bans', the Oltenian legal higher education prepares its 22nd graduating class of jurists. Periodic academic reviews entitle us to be optimistic, and the professional balance of the early 90s decision includes numerous significant landmarks.
The dimension of our results is equally shaped by the professional success of our graduates, by the force of their professional destiny and their involvement in this community. Our graduates are now at the forefront of legal professions, as true ambassadors of the Faculty and the Romanian law.
Local graduates often rank among staff members of the courts, public prosecutor's offices, bars, chambers of notaries public and bailiffs and the legal departments of public institutions in the Oltenia Region. In the Republic of Moldavia, as from the 'Bridge of Flowers' generation, our graduates have been practitioners of law widely recognised for their professionalism. Moreover, their appreciation and recognition as legal specialists has extended to such countries as Uruguay (World Bank representation), Germany, Italy, Greece, France (ICC – International Court of Arbitration Paris), Belgium (European Commission – GROW – Directorate-General for Internal Market, Industry, Entrepreneurship and SMEs), as well as to EU bodies.
I had the chance to be student at the Faculty of Law, the University of Craiova, and form part of the first graduating class, and now I have the honour to serve as Dean of the Faculty. I enjoy the opportunity of having by my side former fellow students and graduates of our Faculty, who are now recognised professors in the academic environment. I equally have the privilege of working alongside my former professors, who have modelled generations of law students in Craiova and whom we all owe our gratitude for having helped us pave the way for our careers.
Out of a 25 years' experience as student and member of a strong academic body, I would like to mention here but one life lesson: it truly is a great professional chance to be part of a genuine team. Major professional projects can be easily and better accomplished, if they are put into practice by a robust team and individual energies are brought together and given strength into an efficient team. Team work represents a chance for each member and a boon to the whole community.
By one's own, it is sometimes hard to plan the future, childhood dreams may be forgotten or later transform into regrets. But, together with those who share our professional values and aspirations, we can turn ideals into reality.
Vivat, crescat, floreat!
Sevastian Cercel
Dean